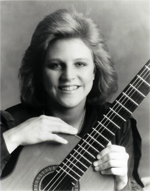 Described as "a fiery performer" by Oscar Ghiglia, American guitarist Leighann Narum has returned to the New York area after four years of living in and performing throughout Spain, where she was one of just two American soloists in the prestigious Foro Madrileño de la Guitarra Clásica II, held in Madrid's Centro Cultural de la Villa, and where she performed as a soloist in the Madrid concert series sponsored by the Fundación Juan March. "Having lived and studied in Spain, she displayed understanding of the music and the history that produced it," according to McClatchy Newspapers. Ms. Narum — who frequently performs throughout Europe and the United States — returned recently from touring Peru, where she performed and gave master classes at Instituto Cultural Peruano Norteamericano (ICPNA) for the XVII Festival International de Guitarra del ICPNA.
Other engagements have included Merkin Concert Hall in New York City, as well as appearances in Kaufmann Concert Hallwith the New York Chamber Symphony of the 92nd Street Y, playing Rodrigo's famous Concierto de Aranjuez. She performed as a guest of the Philharmonia Orchestra of Yalein the world premiere of the opera Burning Bright. In addition, she has performed as soloist and ensemble player on numerous live radio and television broadcasts, including National Public Radio and Radio Sweden.
In prior seasons, Ms. Narum has been a selected member of theSouth Carolina Arts Commission's Community Tour, receiving Touring Fee Support Grants from the commission to perform and teach in South Carolina. She has also received numerous other honors, including nine consecutive Superior Solo awards and two concerto awards by the National Federation of Music Clubs competition. Additionally, Ms. Narum has performed in masterclasses with noted classical guitarists Manuel Barrueco, David Russell, Carlos Barbosa-Lima, Leo Brouwer, Eduardo Fernandez and Robert Guthrie, among others.
A devoted teacher as well as performer, Ms. Narum has taught students at the International Institute in Spain and theInternational College of Spain. She has also been a member of the guitar faculty of Brooklyn Music School and the Classical Guitar Summer Workshop at the University of Cincinnati College-Conservatory of Music. She is currently teaching classical guitar at Rutgers University in Newark, N.J. She also teaches classical guitar at Rutgers University's New Brunswick campus for the Mason Gross School of the Arts Extension Division, where she serves as a College faculty member.
Ms. Narum was born in Madison, Wisconsin, where she gave her first public performance at the age of eight. She studied with Jeffrey Van at the University of Minnesota and Clare Callahan at the University of Cincinnati College-Conservatory of Music (CCM). She received her Bachelor of Music degree, cum laude, in 1985 and a Master of Music in 1987 from CCM, where she also served as a Graduate assistant in classical guitar. Ms. Narum, whose post-graduate study included a year with José Tomás in Alicante, Spain, continued in Italy at Siena's famedAccademia Musicale Chigiana with Oscar Ghiglia, who awarded her the coveted Diploma di Merito for her "brilliant participation" in his master classes.